Make your own cup to gift and be part of the kindness loop. Your cup image is added to the messageinateacup.org and your finder will be able to leave a message for you.
1. Gather your supplies to make a planter.
Click on the orange + signs in the image below to see what you will need. 
Plant
Soil
Pebbles
Cup
Ribbon
Message Tag
Method:
Place pebbles/charcoal in base of cup.
Add 1/2 to 3/4 cup moist soil, depending on plant size.
Arrange plants in cup and add more soil and gently compact to secure plants.
Make sure the cup soil is moist but not over-watered .
If you have it, dampen spagnum moss and lay over soil (for non succulents) or small pebbles (for succulents) to make an attractive finish and to prevent dehydration.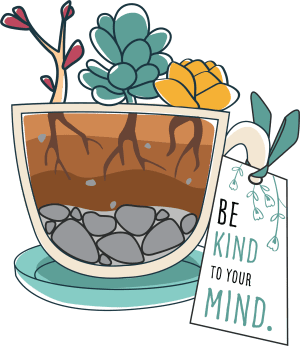 2. Download and print your message tag
The download also includes a finder flag that is added to the cup before you gift it. It gives plant care instructions and has a space for your cup number.
Adding a number and submitting your cup image ensures the cup finder will be able to leave a message for you.
3. Attach the message to your cup and tie with string or ribbon
Tie the message tag tightly to the cup handle and finish with a bow.
5. Wait for the ID Number
When we receive your cup image submission we send you a confirmation with an ID number so the finder can link back to the website to share feedback.
6. Write the provided ID number on the finder flag
Before gifting, insert the flag into the cup soil.
Tips for gifting.
Don't leave outside if wet or very hot weather predicted. Consider who in your street or community might benefit from getting this message and leave it at their front door. If gifting this way you can download this letter to put in their letterbox which gives the finder more information.
Leave it randomly at a bus stop, park bench or next to your street library, or outside your favourite shop. No matter who finds it, you will be making someone's day!