Spread a little kindness, hope and inspiration in your neighbourhood
At a time when many people in our community are feeling vulnerable and a little disconnected, our collective kindness is needed more than ever. Teacup planters and inspiring messages can not only create joy and inspire hope for any finder, but the process of creating will boost the maker's mood too! Read our stories of impact.
Whether you gift to someone you know or perhaps surprise a neighbour…or a stranger…your gift could really make someone's day!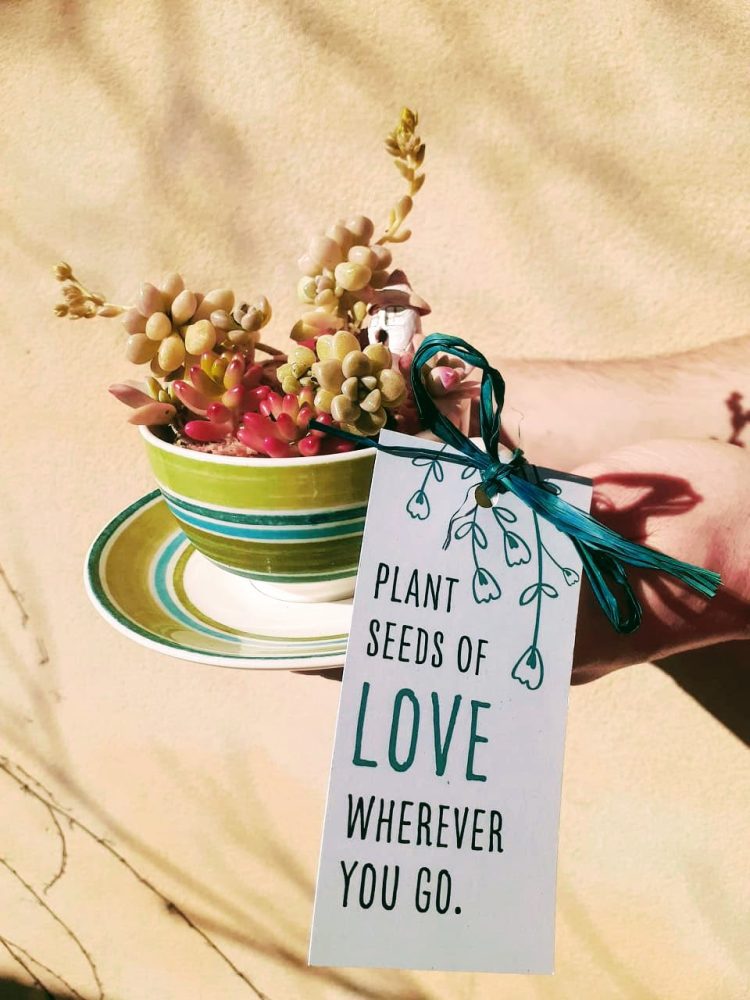 Want to spread some kindness in your community?
There are many ways to get involved!
Make your own teacup planter and get free downloadable resources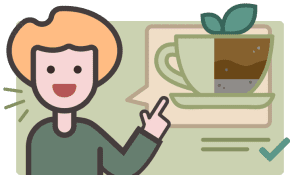 Coming soon!
If you would like to be your own facilitator, you will get all the steps to set up the workshop, a shopping list, a 15 minute zoom call to answer questions and points to guide your workshop conversations.
Gift someone a teacup planter that you made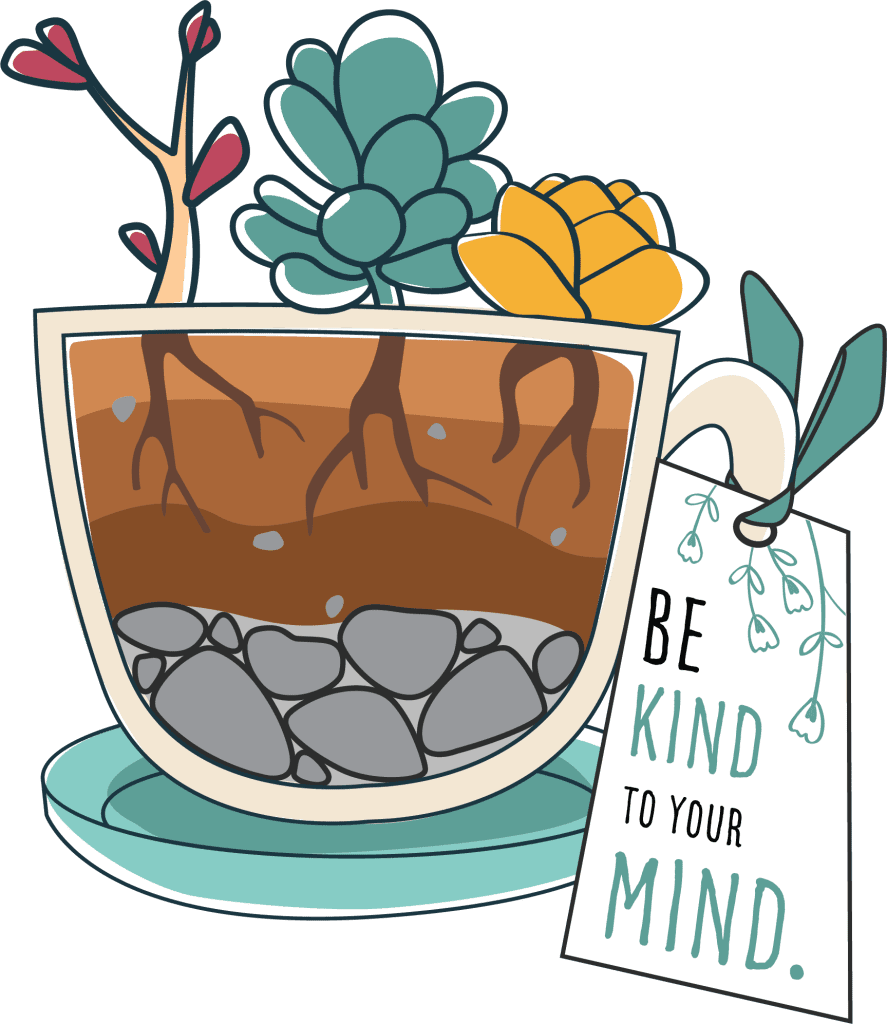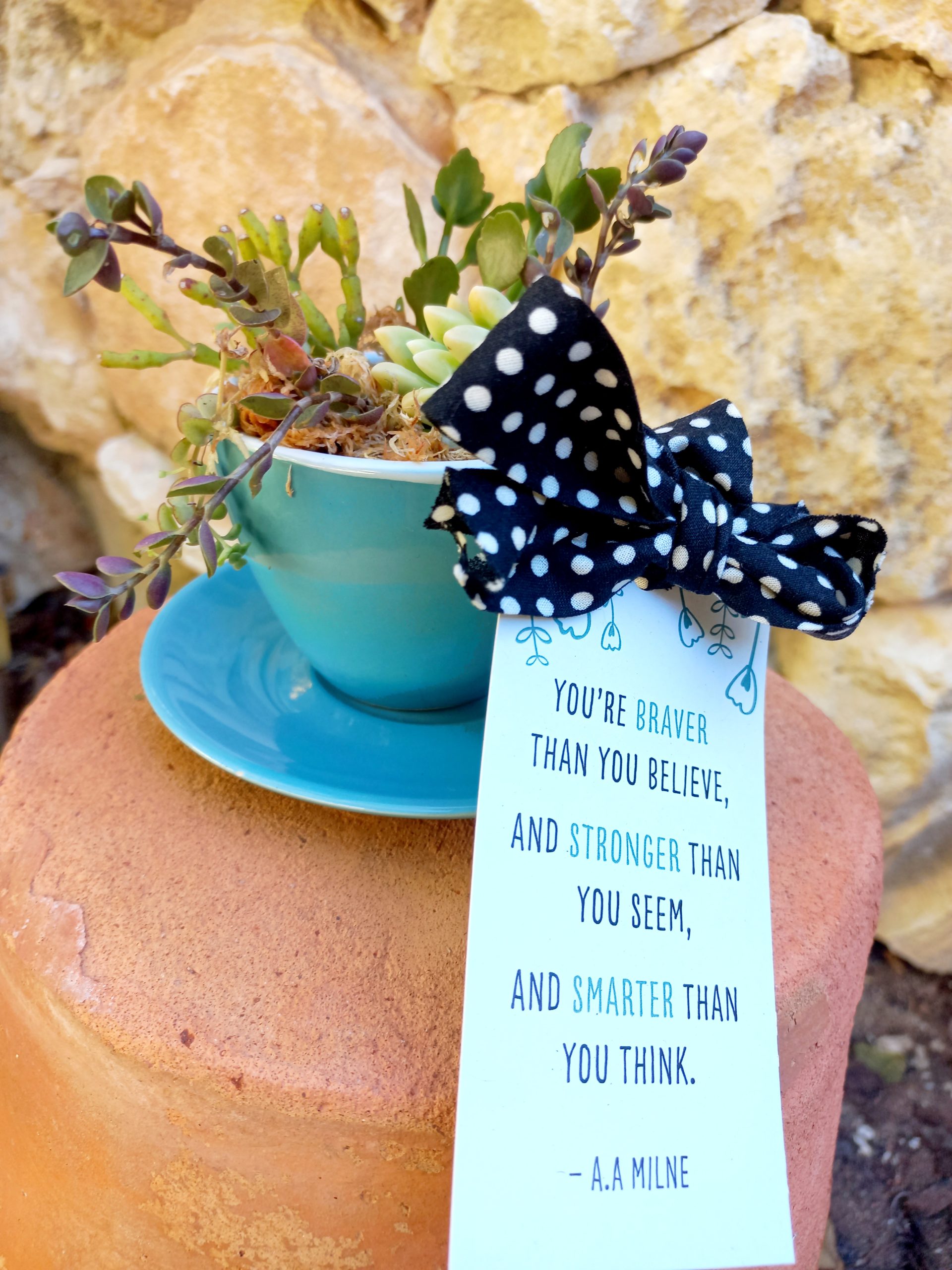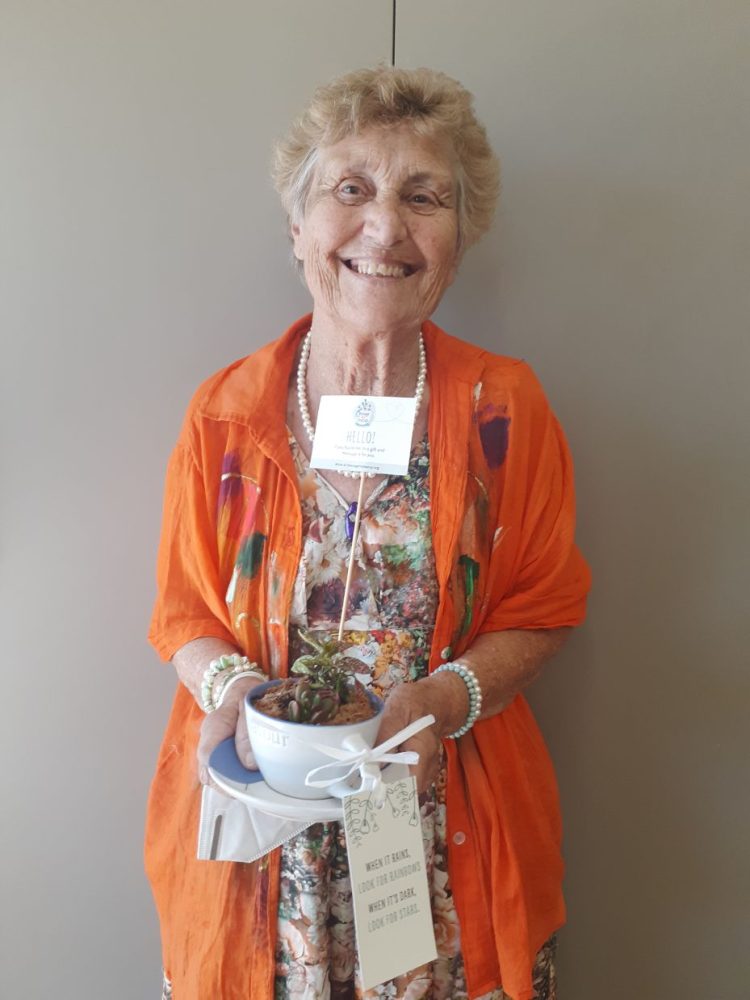 Why do we need this project?
This project offers a simple way for community members to inspire hope, kindness and inspiration and be part of a fun social activity with others.
Be part of the loop and spread some kindness, hope and inspiration in your neighbourhood!
"Hello, My mother in law received a message in a teacup today left on her doorstep. She is very appreciative and would like to pass on her thanks."
"Thankyou so much for my beautiful surprise, if you don't know me, I've had a challenging few weeks and months, this brought a big smile to my face and feeling of warmth & kindness that is so important to be spread. My 1yr old daughter spotted it and was so excited to pick it up from outside. Thankyou so much & have a beautiful day!
"Thank you whoever you are for the lovely surprise left at my door. It is greatly appreciated and something I have been wanting to do myself in a similar fashion for a long time. Your lovely gift has motivated me to move this 'things to do' up my list and begin so we can bring more smiles to many other peoples dials. Have a wonderful day and thank you once again.
" I felt so surprised and I honestly feel so loved. This was the best gift I could've ever received and I LOVE plants! This was the highlight of my week."
"Thank you, it was such a lovely thought. The cup is absolutely gorgeous and I was thrilled to bits to receive it."
"What a delight to receive this message in Mental Health Week, thank you for thinking of me and making my day a little brighter."
" It gave me a spark of joy and gratefulness that someone was thinking of me."
"Thank you for my tea cup – it brightened my day when I found it and it's sitting in my kitchen brightening every day since."
"Hello Bridie, thank you so much for my surprise present. As I am sick at home at the moment it made me feel very good and happy. Love to see you soon at school again."
"This brightened my day so much!! It's a bit cloudy today and it gave me a little bit of sunshine. Thank you so so so much to my lovely teacup maker— your beautiful surprise is absolutely angelic."
Have you received a teacup?
Find out who made it for you.